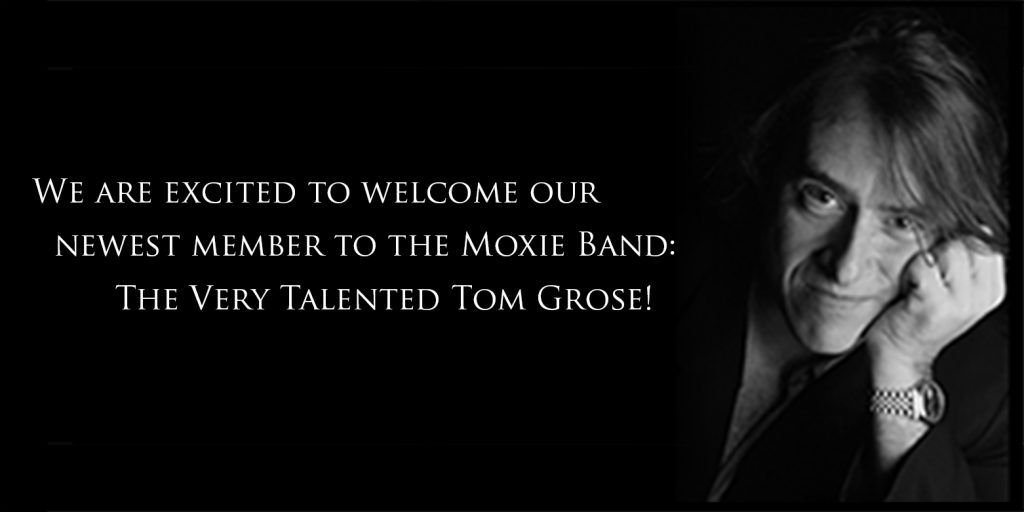 The Moxie Band
Make your special event an unbelievable memory with the professional talents of The Moxie Band. The Moxie band is a premier high-energy party band specializing in providing our customers with the best in interaction dance entertainment. We have a proven track record of customer satisfaction and are ready to accommodate your specific requirements. Every special event is customized to your personal taste. Whether you are looking to enjoy classy dinner music, or raise the roof with pop top 40 or classic rock 'n roll; we will create the mood and atmosphere that is all YOU.
Exceptional live, high energy music is one of the key elements of a memorable event. If the music strikes the right tone, the melodies and songs will be etched in your minds, forever associated with your special event. Browse our play list and references to learn more about how The Moxie Band can help make your party an unforgettable experience. If you are looking to hire an affordable high end Atlanta party band for your wedding, The Moxie Band is the right band for you. As one of the most requested Atlanta party bands in the Southeast, we have performed in all of the major country clubs, hotels and special event venues. You can put your trust in the Moxie band's professionalism and integrity. Atlanta's award-winning party band!
Band Bio
The Moxie Band brings the highest quality musicians, back line gear, and party music to make your special day an event you will always remember! Please be sure to read our reviews all over the web!
Richard Tatgenhorst
Band Leader/ Lead Vocals /Percussion / DJ / Master of Ceremonies
Rich has been playing drums and singing since 1967. A native of Cincinnati and a graduate of Otterbein College in Theater Performance, Rich had the leads in all of his high school and college musicals but came back to his drums performing in nightclubs all over the country until 1986. He came to Atlanta in 1984 with a band from Columbus Ohio and joined the Axtell Productions team in 1986. MOXIE was formed the very next year and since then history has been made. MOXIE performed for Atlanta's biggest wedding reception in Atlanta (Ted Turner and Jane Fonda), the Buffalo Bill's Super Bowl party, the UPS 1996 Olympic parties, and the most important event in history . . . Yours! Rich's life has been performing either in great musical groups, or on stage. But his biggest honor is being a husband and a dad to his three precious children.
Tom is the newest member of The Moxie Band! Tom has toured all over the U.S. with nationally known bands. Local Atlantan's know him best with Tom Grose and The Varsity, The Mike Veal Band,  The Ruperts Orchestra, and A Tribute to Gregg Allman.
http://www.tomgrose.com/home.html
Tony Hill
Guitar / Lead & Background Vocals
Tony  comes to us after a 17 year run with Trammell The Super Band. He is known around Atlanta as the "Funky White-Boy" guitarist whose eclectic style came of age during the heyday of the classic rock guitar heroes of the 70's.He attributes his diverse singing and playing approach to growing up in the melting-pot culture of an army-brat living overseas. After years of touring with several groups such as The Resistance, Radar, Trammell, and Rockola, he has settled in Atlanta to pursue songwriting and recording. However, he still loves the thrill and magic of live performing and brings to Moxie a seasoned and energetic presence that spells F-U-N!!!!
Chris Ortiz
Bass Guitar/ Lead and Background Vocals
Chris born in Flowery Branch, GA and has lived in Georgia most of his life. Having grown up in the deep south, Chris was exposed to an amazing variety of music…from country to blues, pop to classical & rock. But it was when he heard "Meet the Beatles" for the first time that he became "bitten by the music bug" at age 5. It wasn't until he was 13 yrs old that he began to pick up the bass at the urging of his brother, who saw he had a knack for the instrument. While he developed his talent on the instrument, he was still being recruited as Lead Vocalist with various high school bands. And this experience eventually paid off with Chris, at 23, going on a USO tour in 1982 which took him through Canada, Europe, and Greenland. He traveled the world and loved it, but knew that playing bass and singing was his true calling. Upon returning, he never sang "up front" again, focusing on playing bass and singing.
His first full-time bass job was with a moderately successful band, Night Flight in 1984. It is here where he began to develop the tight rhythmical quality that is a part of his trademark today. But his rhythm skills were mastered while playing with Funkadelic drummer, Ben Powers.
Eventually, the musicians of Night Flight (Chris included) decided to go out on their own as a band and created the group, Lifeline in 1986. The band did a wide variety of music, mostly working the "Buckhead Scene" and from that, culminated in jobs where they backed up such acts as Little Anthony, Billy Preston, The Drifters, Chuck Levell (Allman Bros, Rolling Stones)…playing in venues such as the Fox Theatre and The Omni. This also led them into playing quite the number of "one-nighters". The band's trademark was their incredible mixed vocals attracting many local musicians out to see the band.
After Lifeline, Chris began experimented with other music later trying his hand at blues with the band, Atlanta Heat. Later on, he recorded originals with the former group, the Results and showcased their originals at Jerry Lewis's in Memphis in 1993. He continued playing in a variety of bands but also honing his skills at acoustic guitar. Wanting to move in a completely different direction, he co-founded a power trio called Jack Wylde, in 1997. It was very rewarding, both personally and professionally. The band lasted 4 years and worked constantly in the Atlanta music scene.
In Moxie Chris is the back bone to the hard driving rhythm, including DJ on drums, that keep guests on the dance floor yelling for more!
Jack Jones
Drums/ Percussion
Jack Jones grew up in Monroe, Louisiana and was sitting in with his father's country band by age 9. By the time he graduated high school, he was already a veteran of the local music community. He relocated to Atlanta, GA in order to pursue a full time career in music in 2004. Once there, he attended the Atlanta Institute of Music, where he was hired as an instructor immediately upon graduation. Also during this time, Jack played with numerous Atlanta artists, including the prestigious Mike Veal Band, The Breeze Kings, Francine Reed, and Andrew Black. He also toured extensively with Southern Ground artist, Sonia Leigh, and Texas Blues great, Chris Duarte, with whom he went to Japan in 2012. In 2011, Jack returned to Louisiana and received a BM in Music Education from the University of LA at Monroe. During that time he studied orchestral percussion and performed frequently in the Monroe Symphony Orchestra.
He is currently back in Atlanta, playing full time, teaching classes at the Atlanta Institute of Music and taking classes towards a Master's degree in jazz studies at Georgia State University. Over the course of his career, Jack has shared the stage with Zac Brown, Mike Stern, Paquito D'Rivera and jam band luminary Col. Bruce Hampton. In addition to the Moxie Band, he can be seen around town playing with various jazz artists or touring with Col Bruce.
Kristin Markiton                                                                                                                                        Lead and Background Vocals
Kristin is a classically trained, extremely versatile singer with a wide vocal range and the uncanny ability to perform virtually any musical genre or vocal style.  She began performing in musical theater productions and has worked with many of the professional theaters in the Atlanta area, including The Atlanta Opera, Aurora Theatre, Horizon Theater, Actor's Express, Jomandi Productions, Theatre in the Square, and Savoyards Light Opera (now the Atlanta Lyric Theater).
As a recording artist and songwriter, she has released two full-length studio albums.  Her debut solo album, Wandering Moon, was produced by Kristian Bush of the country band, Sugarland, and features some of the most talented musicians and songwriters in the Atlanta area, including Kristian Bush himself who appears on the title track which he and Kristin co-wrote together. It is available for download at http://www.cdbaby.com/cd/markiton.  The other release came out of her time touring, writing and recording with the Atlanta based blues-roots-rock band, Delta Moon. It is called Howlin' and is available online at Spotify, Itunes, Amazon, and CD Baby (http://www.cdbaby.com/cd/deltamoon3).  Kristin has also recorded countless commercial jingles, demos, and appeared as guest vocalist on many other artist's albums.
Kristin has performed with many of Atlanta's most sought-after party/wedding bands during her 20 years here in Atlanta (she is originally from the Great Pacific Northwest), including Big Mike Geier and his Kingsized Band, Rupert's Orchestra, The Mike Veal Band, Numerous Complaints, the Kid Brothers Band, and the GT's, but is very happy to have made her home for the past 8 years right here with the wonderful, talented gentlemen of The Moxie Band.
Nick Longo                                                                                                                                                           Saxophone, Lead Vocals
Nick has been performing with MOXIE since 1995. He holds a degree in Jazz Studies from Georgia State University and has been playing professionally for the past 20 years. He works consistently, playing all genres of music, and has worked on stage and recorded with such well-knowns as Greg Allman, Al Cooper, Charlie Daniels, Lynard Skynard, Don Henley, Francine Reed, and The Coasters. In addition, Nick has worked with jazz greats Nick Erignola and Randy Brecker. You can hear his work on commercials for Delta Airline, Kroger, Eureka, Hud Homes, BellSouth, as well as on the CBS program "Nightman" and the Cartoon Network.